by Nicole Murray
Hispanic Heritage Month is the annual celebration of the history and culture of the Hispanic and Latin communities in the United States. The tradition began in 1968 as "Hispanic Heritage Week " under Lyndon B. Johnson and later expanded to encompass a month-long span, September 15th to October 15th, under Ronald Regan in 1988.
The start date of September 15th is significant because it marks the anniversary of independence for five Latin American countries: Costa Rica, El Salvador, Guatemala, Honduras, and Nicaragua. Mexico and Chile celebrate their independence days on September 16th and 18th respectively.
While the term "Hispanic" versus "Latino/a/x" can sometimes be convoluted and used interchangeably, both terms have different meanings. In 1976, Congress defined Hispanic as "Americans who identify themselves as being of Spanish-speaking background and trace their origin or descent from Mexico, Puerto Rico, Cuba, Central and South America, and other Spanish-speaking countries" which excludes Portugal and Brazil. The term Latino, Latina, or Latinx references people who are from Latin America, regardless of language.
Nowadays, which term one uses to describe themselves is largely based on personal preference. So much so in fact that the term Hispanic is now defined by the Census Bureau as "anyone who says they are and nobody who says they aren't." Which is why during Hispanic Heritage Month, the umbrella is open to so many diverse cultures and traditions, all of which deserve celebration and recognition. 
For this month's spotlight, we had the distinct pleasure of speaking to three artists, Ricardo Saeb, MarCe Zerrate, and Michele Agosto, each of whom represents different art forms and different cultures. We also included some historic anecdotes to accompany their stories as we celebrate Hispanic Heritage Month!
---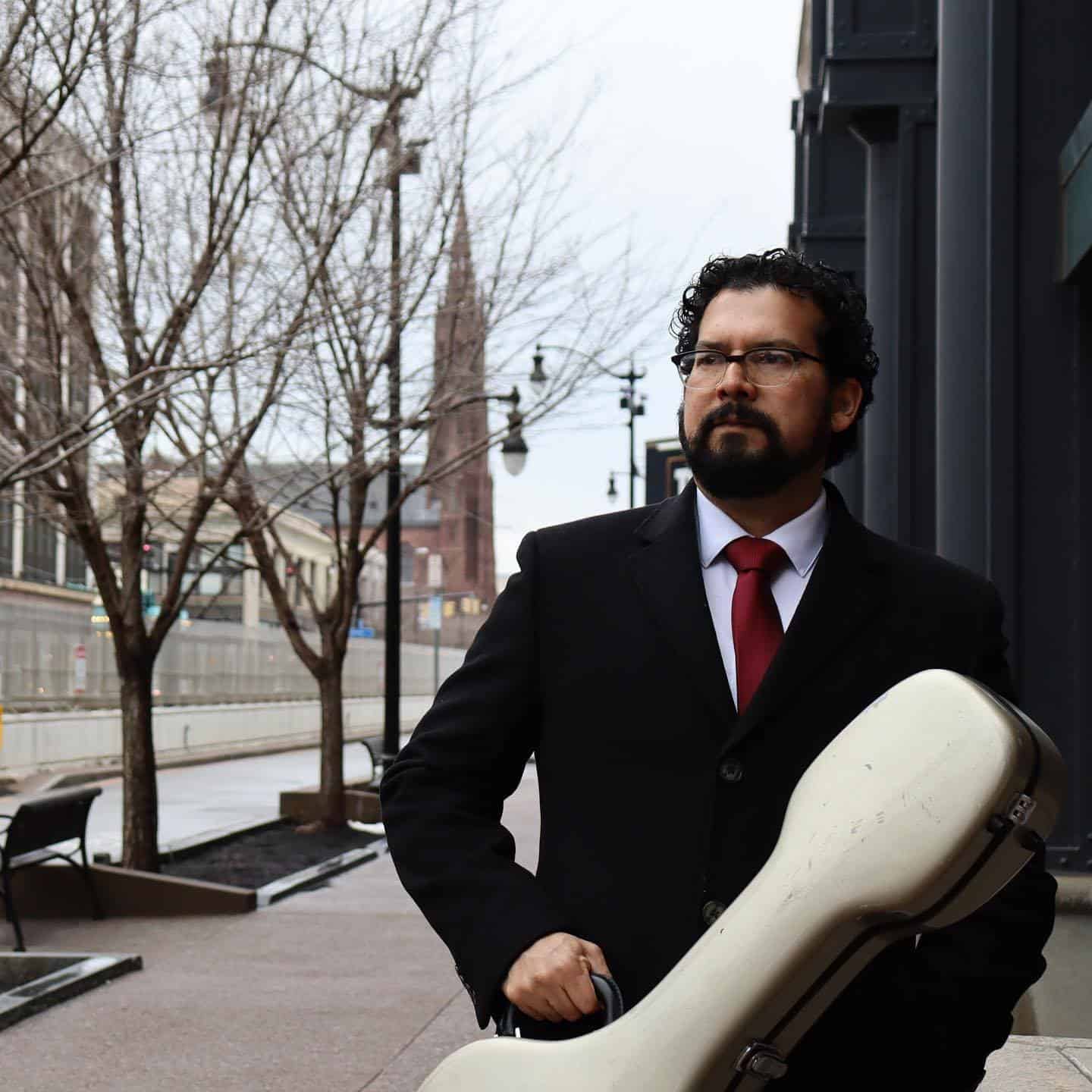 Growing up in Chihuahua, Mexico, Ricardo Saeb V. was constantly surrounded by music. As he puts it, "When I was a teenager, I wanted to be a rockstar. But in Mexico, there is a[n acoustic] guitar hanging on the wall in every home so that's what was there and then I fell in love with it and never left it."
String instruments are central to the music of many cultures around the world but, as Ricardo says, "If there's one instrument that is crucial for the music of Latin America and Spain, it's the guitar." Classical guitar differs from its electric counterpart both in the structure of the guitar and the way that it is played. Classical guitar players use their fingernails to pluck the strings (although they occasionally will strum a chord) and the result is the ability to play many melody lines at the same time, or "polyphony".
Ricardo began his classical guitar training at the Conservatorio de Música de Chihuahua. He went on to attend the Conservatorio de las Rosas and the University of Texas at Austin prior to acquiring both his masters and doctoral degrees from the University of Kentucky. After teaching and performing both in the United States and Mexico, he has spent the last three years in Buffalo, NY where he teaches guitar at the Castellani Andriaccio Guitar Studio and is a board member of the Hispanic Heritage Council.
As an active performer, Ricardo can be heard playing all genres of traditional Latin music. One of his favorites to play ("It's difficult to pinpoint one favorite because I love them all," he says) is "Recuerdos de la Alhambra" by Spanish composer Francisco Tárrega or any music by Paraguayan guitar player Agustín Barrios, also known as the "Paganini of the Guitar." He even released his own album entitled "Zephyr" that he describes as a "playlist of pieces that I enjoy listening to." This album, released during the pandemic, features musical styles from Brazil, Spain, Cuba, Argentina, and an arrangement of the beautiful Mexican folk song, "La Llorona," popular during Día de los Muertos.
The story of "La Llorona," much like the melody itself, is hauntingly beautiful. The title translates to "the weeping woman" and the lyrics popularized in 1941 tells the story of La Maliche, the Nahua Princess, who was demonized by her husband Cortez as a witch after she drowned her children. But legend says that the woman had only done so out of mercy as her children were set up to be murdered in Spain and she wanted to deliver a painless death. Since 1941, it has been covered and recorded countless times and, you can even hear this tune in the Disney movie Coco performed by Alanna Ubach!
Now, Ricardo is excited to give back to his new community and has recently relaunched "The Guitar Initiative" through the Hispanic Heritage Council which offers free lessons and free instrument building workshops to kids. His objective is to bring world-class musical experiences to everyone and inspire a new generation of music lovers. As he says, "Buffalo is indeed the 'City of Good Neighbors' because since we've arrived here, we have been welcomed by everybody. And in developing this program, we have had the incredible support of organizations like Buffalo String Works, the Buffalo Philharmonic, HOPE Buffalo, and The Castellani Andriaccio Duo and it has been a wonderful experience."
You can catch Ricardo's next solo guitar performance at SUNY Fredonia, presented by the Fredonia Guitar Society, on Friday, October 1st at 8PM. He will also be playing chamber music at Kleinhans Music Hall for the "Celebración de la Guitarra" event on October 12th at 7PM. The program will also feature the Hispanic Heritage Guitar Initiative Ensemble, the Buffalo Philharmonic Chorus, and the BPO Strings.
You can buy Ricardo's CD on Amazon here.
---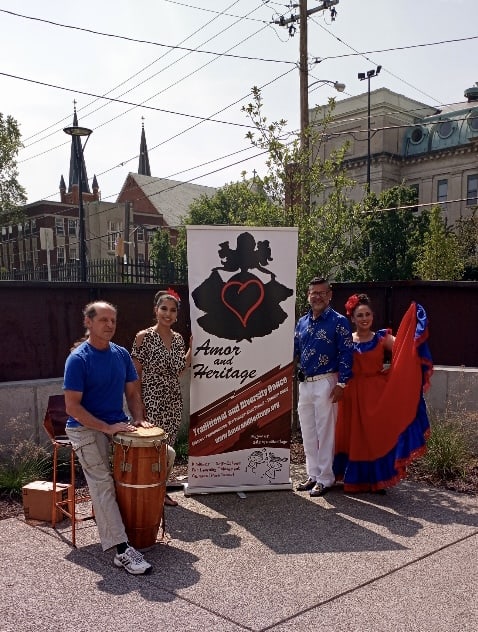 MarCe Zerrate is the founder of the dance and cultural education organization which she lovingly named "Amor and Heritage." Amor and Heritage prides itself on being a multicultural organization which offers not only dance workshops, but original experiences designed to immerse its participants in the history, clothing, music, dance, and traditions of basically whichever country (or countries) they choose. When MarCe and her team of accomplished dancers and speakers come to your school, college, or workplaces, you can expect a lot of fun, movement, and learning.
When MarCe moved to Buffalo in 2006, she immediately noticed the lack of diversity in her community. Eager to begin connecting with her new city, she began volunteering for Thanksgiving and in this program, she met a young boy who appeared to be Latino. But when she tried to speak with him in Spanish, he said something that struck her: "I don't want anyone to see me as different, I want to be like everyone else."
This stuck with MarCe and she began to put her skills as a dancer and a businesswoman together to create what would eventually become Amor and Heritage. Her first connection was to an organization called FANA (the Spanish acronym for "Foundation for the Assistance of Abandoned Children) which places adopted children from Bogotá, Colombia with families in Western New York and it was through this organization that she began to find her community. She began teaching the children adopted through FANA about their heritage and culture and saving her earnings to eventually begin her own non-profit organization.
Amor and Heritage was officially born in 2012 and MarCe's first priority was education. She said, "I want the kids to feel proud so we are going to use words that are positive. We are going to say 'self-love' words and everything is going to be about kindness, love, tolerance, and understanding." The next priority for MarCe was dance. MarCe has an impressive dance background and was a dancer at the Kennedy Center in Washington DC with the Washington National Opera. Both of these elements were blended together in the first pitches that she sent out to local colleges and schools and she was overwhelmed when the first call came in just a week later.
MarCe tells the delightful story of the first performance that Amor and Heritage was contracted to perform: "I didn't have costumes! My mommy was already making some and she was going to send them from Colombia and they didn't arrive on time. So the day before, I'm looking for every fabric I had in the house. And my husband was like, 'What happened to the curtains?!' But I had used all of the curtains and tablecloths I could find (luckily we are very colorful!) so we could have costumes. And those were the first costumes that we used."
The costumes worn by Amor and Heritage dancers have evolved quite a lot since then (be sure to check out the beautiful sparkly costume from their latest performance!) and so has the range of dance styles that they are able to present on. This includes one of MarCe's favorites, the Cumbia – the national dance of Colombia which features mostly movement from the hips up while the feet basically stay in place.
The Cumbia is a powerful reminder of how important dance is to the Latino culture. MarCe recounts in her presentations how when enslaved Africans were brought to Colombia, they were forbidden to fall in love with the enslaved indigenous people of Colombia. However, celebratory dances were usually allowed on the plantations so courtship was only able to be communicated through dance. The Cumbia blends dance elements of traditional African and native Colombian dances with the costumes reflecting European colonization. While the reaction upon hearing this story is mostly sadness, MarCe reminds us that, "Love always wins."
Amor and Heritage will be at the National Hispanic Heritage Celebration in Amherst on October 1st at the Amherst Center for Senior Services. They are also available for hire for your students or your next gathering. If you are interested in hiring them, please contact MarCe at "[email protected]" or visit their website here.
---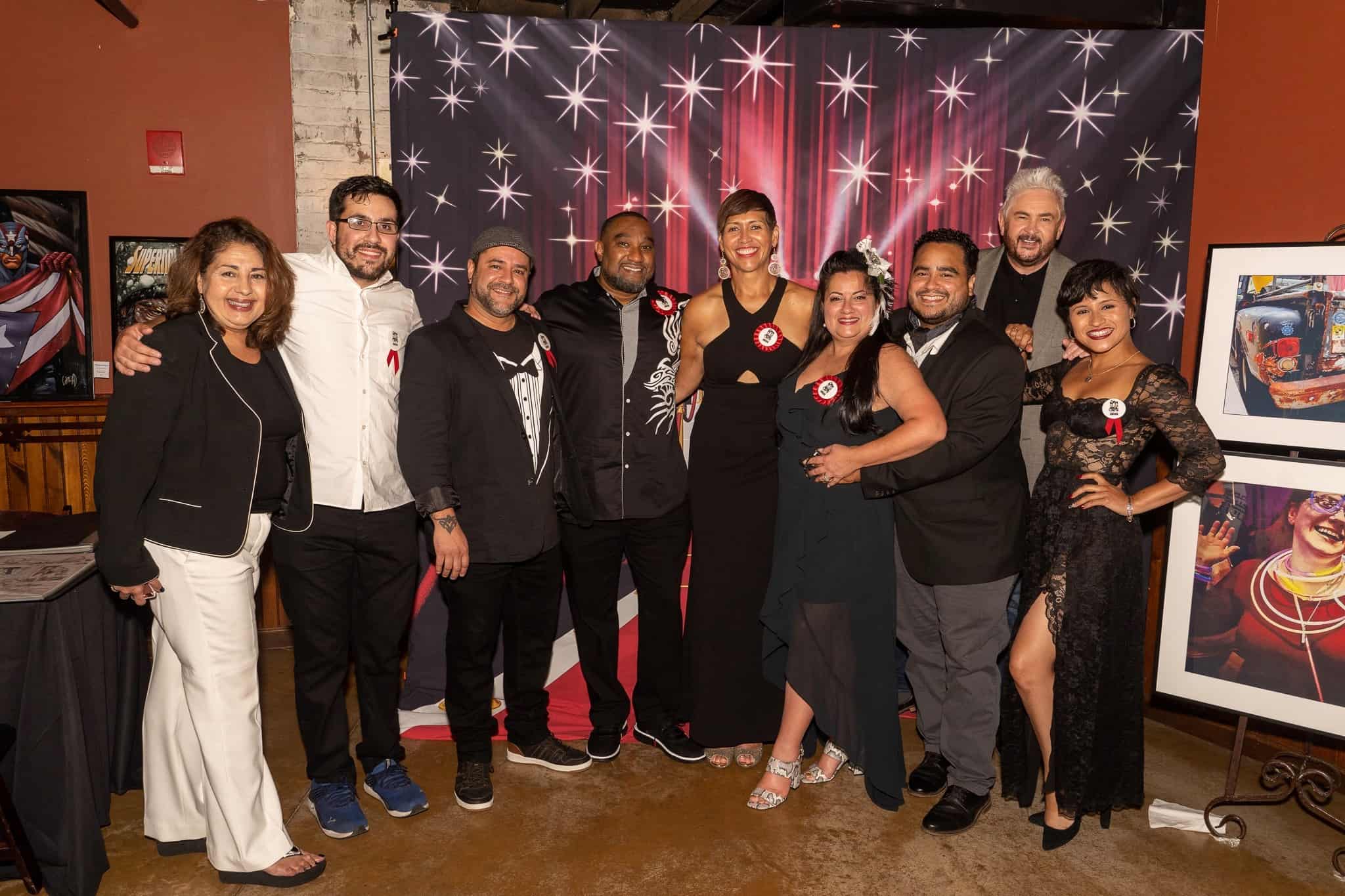 If you are involved in the art scene in Buffalo, NY the odds are that you have seen Michele Agosto (Photo: fifth in from left) out and about. Michele's background in the arts is vast and her passion for arts education shines through in everything that she does. Prior to her current job as the Director of Arts for the Buffalo City School District, Michele was an art teacher at Black Rock Academy, School 51 where she taught grades 3-8 and a teacher at North Park Academy. When she's not working in the schools or sitting on the board of any number of Buffalo arts organizations, she is representing her Puerto Rican heritage with the Latinx arts collective she co-founded, "Los Artistas del Barrio Buffalo."
Michele recently had the opportunity to reflect on the origins of Los Artistas del Barrio (LADB) at their "La Extravaganza" event which took place earlier this month, commemorating their fifth anniversary and new home in Asbury Hall in Downtown Buffalo. The collective began as many collectives do, with several like-minded artists coming together; in this case, Aileen Gonzalez Marti, Michele Agosto, William Rodriguez, and Vinny Alejandro. 
Their first gallery opening drew a devoted crowd made up of friends, family, and the Latino community and so they thought, "Why not do it again?" Their second opening was bigger, this time with spoken word artists, and Michele remarks, "People came. There was a desire to see Latino artists. We didn't expect to sell anything, we just wanted to come together and have a party." 
Since then, LADB has grown to 14 members, 12 of which are active, and they are moving on to tackle bigger projects. Literally, bigger, as the collective has recently completed their first mural of baseball legend Roberto Clemente on the corner of Niagara and Hudson in the Hispanic Heritage District of Buffalo. (See photo below)
The original mural of Clemente was made of simple wheat paste and was in decay; falling off the side of the Efrain Burgos Hair Salon. The hair salon owner, Efrain, along with several other community supporters enlisted the help of Los Artistas del Barrio to restore the mural over this past summer with LADB muralist Vinny Alejandro  leading the charge. Now completed, this beautiful mural is a bright beacon on the Avenida de San Juan, which has long served as the landing place for Puerto Ricans who have since settled in Buffalo.
For those who may not know, Roberto Clemente (1934-1972) is a hero on the island of Puerto Rico as well as to baseball fans around the world. He was a right-fielder for the Pittsburgh Pirates for 18 seasons and was the first Caribbean and Latino baseball player inducted into the Baseball Hall of Fame. His legacy stretches far beyond baseball as he was also a notable humanitarian and often did charitable work in Latin American and Caribbean countries. Clemente died tragically in a plane crash while delivering aid to earthquake victims in Nicaragua.
Now that the mural is complete, Michele and the other artists of LADB are excited to continue their mission by offering more workshops and events accessible to artists and non-artists alike. "I'm hoping that we can continue to work with our local Latino organizations to create beauty in our community. Whether that's a mural or an event that includes music, we just want to continue making those connections," said Michele. "Everyone in the Latino community has a story and sometimes those stories aren't heard. We would like to give them that opportunity, to share their story, and maybe ignite something and inspire something that they didn't even realize that they had."
You can see the work of the artists in Los Artistas del Barrio on October 1st at the Hispanic Heritage Celebration in Amherst at the Amherst Center for Senior Services (which is Amherst's first time celebrating Hispanic Heritage Month!). And then, on October 9th from 2-4PM, they will be hosting an "Art In Nature Walk" in collaboration with the Buffalo Niagara Waterkeepers and Tifft Nature Preserve. For more information, visit their website here.