by Nicole Murray
All too often, "Western New York" is a term used to describe the city of Buffalo and its immediate suburbs. Maybe names such as Clarence, Orchard Park, Tonawanda, and Lancaster come to mind. But if you take just a short 45 minute drive outside of any of these places, you'll find that you've left the suburbs and hustle and bustle of city life far behind and entered the beautiful rural areas of Western New York.
These types of rural settings have historically attracted artists of all disciplines who have packed up their crowded city studios to seek an artistic retreat in the quiet countryside. Here you'll find seasoned professionals as well as skilled artisans and craftspeople who have taken up a creative path, perhaps as a means to distill the beauty of the surrounding countryside. Arts events in these communities are well attended and serve to strengthen the local economy by drawing in large crowds from surrounding cities as well as bringing together those who live locally.
This month, we're delighted to spotlight three organizations that are doing impactful work in their rural communities – Shake on the Lake (Perry, NY), North Shore Arts Alliance (Fredonia, NY), and Griffis Sculpture Park (East Otto, NY). We hope their stories inspire you to make the trip to one of their upcoming events so you can see these hidden gems of the Western New York arts community for yourself.
---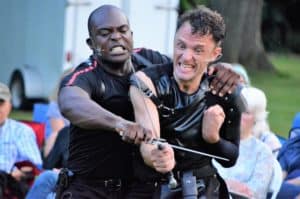 Shake on the Lake was born in 2012 from the artistic mind of Silver Lake resident Josh Rice as a means of supporting himself as an artist when he was home for the summers. One fateful summer evening, while riding his bike around the Perry Public Beach, he noticed the natural amphitheater qualities of the space which called to mind his past experiences doing outdoor performances of Shakespeare in Little Rock, Arkansas. He swiftly reached out to Pilar McKay, a high school friend (now Co-Founder and Managing Director of Shake on the Lake), who had been doing work in the community to put Perry, NY on the map and the stars quickly aligned to give Josh and Pilar the green light for their very own Shakespeare production company.
From humble beginnings, Josh and Pilar have created success in the small town of Perry from understanding two things better than anyone, 1) their audience and 2) their impact.
Josh knew that it's not easy to convince your friends and family to come out to a full-length performance of Shakespeare so the first work he produced with Shake on the Lake was "The Complete Works of William Shakespeare, (Abridged)" a 90-minute comedic romp through the complete works of Shakespeare and his audience ate it up. "Okay then," he said. "If you liked this, you're going to love 'A Comedy of Errors." And from comedies, Shake on the Lake has moved on to tragedies and through this continuous building of trust, Josh has been able to build a loyal audience of new Shakespeare fans.
Shake on the Lake represents the very best of "creative placemaking" in which artists, arts and culture organizations, community developers, and other stakeholders use arts and cultural strategies to implement community-led change. Josh and Pilar have taken Shake on the Lake on tour to other rural areas of Western New York and what they've noticed is that each time there was an event, other local businesses such as hotels, restaurants, breweries, and shops also saw a boom. They are now enjoying the fruits of their labor which have culminated in their own storefront theater space for rehearsals and performances as well as recent renovations to their original performance space, Perry Public Beach.
This summer, Shake on the Lake is back to in-person performances. Their season was kicked off with the Storefront Theatre Festival, a series of site-specific performances in partnership with the New York State Puppet Festival. Most recently, the annual Sea Serpent Parade encouraged children and families to come out to create a large-scale pageant puppet of the Silver Lake Sea Serpent that was paraded throughout the town.
You still have the opportunity to see Josh and company during "Shake on the Lake Presents: Songs and Sweet Airs" which will take place from July 29th through July 31st. They invite you to bring a picnic and come enjoy the performance which will feature music, puppetry, comedy, and of course, Shakespeare. Ticket information is here.
---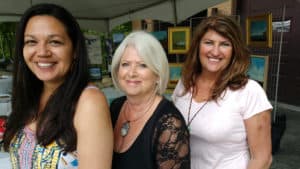 The North Shore Arts Alliance was founded about thirteen years ago by a group of artists with the mission to promote, mentor, and encourage visual artists of all disciplines in Chautauqua County. The organization has grown significantly since then and membership in the alliance includes local artists and community members who can join for a nominal fee. All administrative work is done by volunteers and the funds that are raised go directly to the promotion of Alliance artists and to arts scholarships for local college-bound seniors.
Their signature event is the Chautauqua-Lake Erie Art Trail, a driving trail that brings patrons directly to the homes and studios of many of the artists in the Alliance. They call it the "Art Trail Hub Crawl" because many stops on the trail are "hubs" where you can see the works of multiple artists at a time.
Much like Shake on the Lake, the Art Trail Hub Crawl serves as an economic driver for Chautauqua County with patrons arriving in from across the state, and many from the bordering state of Pennsylvania as well, to come and peruse its wares. While many recognize the Chautauqua area for the Chautauqua Institution, many tourists as well as many from the local community are drawn specifically to the Art Hub Crawl for its accessibility and its direct connection to the artists themselves.
Marcia Merrins, President of the North Shore Arts Alliance and a skilled potter, describes the interactions with her customers during the Art Trail event as "one of the best things about making art." During the Hub Crawl, she is able to talk at length with those who come through her home, which is one of the hubs on the trail, about her inspirations and artistic process. In particular, her pottery serves as an exciting talking point because in her words, "[as opposed to a painter,] …you couldn't tell how I do it from a bag of clay."
This year's second Art Trail Hub Crawl will take place on September 4th and 5th from 10AM to 5PM. There are eleven total "hubs" on the trail with art that ranges from paintings to textiles and the hubs are scattered from Fredonia through Westfield and Bemus Point down to Jamestown. It is well worth the stop on your Labor Day weekend to check out this unique event, meet the talented artists in the North Shore Arts Alliance, and perhaps find a new piece of art to take back home with you. Find more information about the Art Trail Hub Crawl here.
---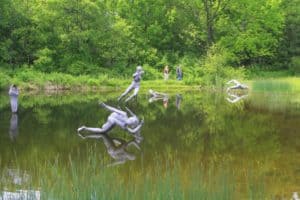 Just a short journey away from Ellicottville, an enchanting experience awaits those who visit Griffis Sculpture Park in East Otto, New York. The sculpture park was founded in 1969 by Larry Griffis, Jr. who was an exceptional businessman as well as an avid sculptor. Taking inspiration from watching his children play around the sculptures in Hadrian's Villa in Italy, he returned to Buffalo with the idea of making art an interactive and immersive experience. After receiving a gift of 125 acres of land from his mother in Ashford Hollow, the park began with exhibitions of Larry's sculptures, many of which remain at the park.
Over the last fifty-two years, Griffis Sculpture Park has grown to over 450 acres and contains more than 250 sculptures, making it one of America's oldest and largest sculpture parks. The park is split into two sections: Rohr Hill and Mill Valley both of which feature hiking and walking trails for exploration. Many of the sculptures are climbable and children and adults alike can enjoy seeing a variety of art from up close or from far away.
Nila Griffis Lampman, granddaughter of Larry Griffis, Jr. is the Executive Director of the Ashford Hollow Foundation which runs Griffis Sculpture Park as well as the Essex Arts Center. Her incredible knowledge about the history of the park as well as her passion for continuing her family legacy is inspiring and if you have the opportunity to attend one of her tours, it comes highly recommended.
She notes that the park is divided into several areas: Trailhead, The Bathers, Insects, Amazons, Castle Tower, Griffis Family Heads, The Maze, and The Stage. Each section has its own set of sculptures and a distinct personality. All of the sculptures are made out of hearty materials such as steel and concrete to withstand the elements. Nila jokes that one of the questions she gets asked most frequently on tours is if the statues get taken inside during the Western New York winters, to which she laughs and says, "And where would we put them?"
Nila is incredibly excited about the return of live events to the Griffis Sculpture Park, specifically their Summer Festival which will take place on August 15th from 1 to 6PM. This year's event is headlined by the power-pop group, "Mom Said No," and will feature several other musical and spoken word performances. As evidenced by our other spotlight organizations, this event is yet another example of "creative placemaking" and bordering businesses in Ellicottville have come to enjoy an uptick in business during the festival. Families and groups come from all over the region to enjoy the festival and stay to check out local restaurants such as Ellicottville Brewing Company (*the author's personal favorite brewery in the area) and attractions such as the Sky High Adventure Park at Holiday Valley.
To those interested in visiting Griffis Sculpture Park, it is open from sunrise to sunset and admission is $5 which can be paid via Venmo or PayPal or cash but only when the gift shop is open on the weekends. The park is carry-in, carry-out with no trash receptacles on the property. As Nila says, "You can spend an hour or spend the day, this park is what you make of it!" Find more information about Griffis Sculpture park here.