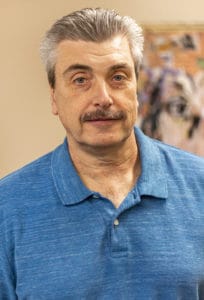 Mark Banaszak is the fiscal associate at Arts Services. He oversees ASI's Financial Services program, which offers low-cost bookkeeping and fiscal sponsorship to the region's artists and arts organizations. Since 2018, Mark has served more than 20 bookkeeping clients and over 25 fiscal sponsorship clients.
Mark was born and raised, in Buffalo, where he attended St. Margaret's Elementary School and St. Joseph's Collegiate Institute. In 1986, Mark received his bachelor's degree in finance from Canisius College and went on to earn his credit hours in accounting from SUNY University at Buffalo.
Mark joined ASI after spending over three years as the business manager of SUNY University at Buffalo's Child Care Center, where he was involved in financial matters such as billing and processing tuition payments, paying bills, assisting in the creation of the annual budget, and presenting financial results at monthly Finance Committee meetings. In addition, Mark's experience included overseeing the payroll processing function and coordinating the delivery of the benefit enrollment program, for which he offered support to staff during the enrollment period.
Prior to his experience at the Child Care Center, Mark spent over 10 years in the banking industry, where he held positions in customer service, mortgage payment processing, investor reporting, and internal audits. Mark also worked for nine years in the telecommunications area as a risk prevention analyst with Sprint, where he had the responsibility of performing compliance/operational reviews in retail locations across New York State, Pennsylvania, Ohio, Virginia, and Maryland.
In his free time, Mark enjoys bowling and watching his twin daughters play in their travel fast pitch softball league tournaments. He lives in Tonawanda.
Photo credit: Elaine Stickney