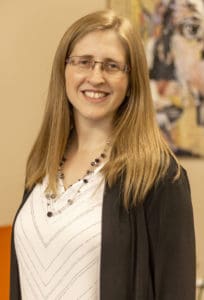 Holly Grant is the grants and programming director of Arts Services Inc. As a versatile and proven arts leader, she is dedicated to exposing people to the arts and helping artists discover their potential. Bringing more than a decade of experience working in the Western New York arts and cultural sector to ASI, Holly has developed strategic partnerships throughout her career that support and connect members of the arts community.
Holly spent the previous chapter of her career breaking the barriers that prevent underserved schools and communities from attending live theatre. As the former education coordinator at Shea's Performing Arts Center, she brought over 65,000 young people to the theater—many for the first time—through creative and unique programming. In this position, she worked tirelessly to secure funding to offer free and reduced-cost admission and transportation to schools and families in need, and worked directly with artists to bring them into communities otherwise unable to experience the performing arts. Throughout her 13-year career at Shea's, Holly led key organizational programs such as the Kenny Awards—Western New York's high school musical theatre awards program—through which she helped put $45,000 into schools to support their theatre departments. She also partnered with Buffalo Public Schools to support and mentor educators who are new to the process of producing musicals.
During her time at Shea's, Holly guided and assisted thousands of young people, educators, and families through free theatre-based programs and opportunities, including master classes, workshops, and discussions. She provided professional mentorship to young arts professionals seeking a career or study in the performing arts, and used her position to bring together thousands of performing arts lovers to build a community of practitioners, educators, and theatregoers who collectively work in the pursuit of high-quality performing arts experiences.
Prior to working at Shea's, Holly served as the event coordinator for the Kenan Center and as a house manager for the Rockefeller Arts Center at SUNY Fredonia, where she received a degree in Arts Administration. She has also served as a member of the Arts Partners for Learning leadership team and the Education Affinity group for the International Performing Arts for Youth, and has been a presenter at the Erie County Music Educators Association conference.
In addition to her professional experience, Holly is currently a singer with the Buffalo Philharmonic Chorus, where she has served as a board member and board president and has assisted with their marketing, development, and concert logistics efforts.

Photo credit: Elaine Stickney