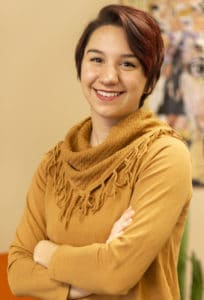 Jess Trainor is the Arts Access coordinator at Arts Services. She has been active in Western New York's nonprofit community from an early age, volunteering with Donate Life, Compass House, Just Buffalo Literary Center, and We Rock the Spectrum. Before receiving her bachelor's degree in Health and Human Services with a concentration in Early Childhood Development from the University at Buffalo, she worked for SUNY New Paltz's Art History Department as an administrative assistant. She is now pursuing her master's degree in Public Admin and Nonprofit Management at Buffalo State College.
Jess has 5+ years of experience working with children with disabilities. Her background enables her to serve as a resource for the Autism community, and she has created workshops and worked in classrooms at Autism Services Inc. She has also found that art is an effective outlet for children with Autism, and has assisted with classes at Squeaky Wheel Film & Media Arts Center in partnership with Rock Autism and the Autism Center at Oishei Children's Hospital.
In addition to her work with ASI, Jess currently works in the Crisis Support department with Erie 1 BOCES at the Northtowns Academy.
Photo credit: Elaine Stickney