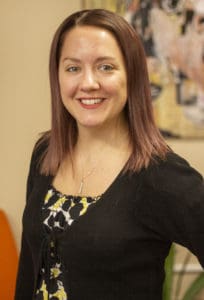 Ms. Swan is the Executive Director of Arts Services Inc. (ASI).  In this position she leads this regional organization through
Financial and Budget Operations;
Board Governance;
Programmatic and General Administration;
Fundraising and Development; and
Staff and Intern Management.
Since Ms. Swan's leadership, ASI has demonstrated that it is the center of "Where the Arts Meet Business".
Prior to this position she served as the Associate Director of ASI for 7 years, including managing multiple grant-giving programs awarding over $500,000 to over 300 recipients in the arts and cultural community.  Ms. Swan has been in the field of nonprofit arts management for over 15 years and has been supportive of thriving arts and culturals through her community-minded focus and involvement in grassroots production.
She provides direct leadership to partner networks including the Greater Buffalo Cultural Alliance (GBCA), Cultural Alliance of Niagara (CAN) as their Secretary, the Arts Partners for Learning (APL) Leadership Team, Vice President (& Governance Committee Chair) of ArtsNYS, and BoardStrong's WNY Advisory Council. In addition to ASI work, Ms. Swan is a news wire writer for the Nonprofit Quarterly (NPQ), a Member of the Leadership Niagara Class of 2016, an Adjunct Professor at Daemen College and for the University at Buffalo's Arts Management Program, Board Member for Hope for Cats, Finance Committee Member for Grassroots Gardens, and Alumni Ambassador, College of Arts and Sciences at the University at Buffalo.
Her other arts and cultural and non-profit work includes
Business Manager, Buffalo Philharmonic Chorus (2009-2011)
House Manager / Fundraising Chair, Lancaster Opera House (2009-2011)
Member, Mid-Atlantic Arts Foundation Resilience Fund Advisory Nominations Committee (2020)
Finance Committee, Grassroots Gardens (2019-current)
Panelist, NYS Council on the Arts State & Local Partnerships Grants (2019-current)
Panelist, Indicator Art, Student Art Critique (2021)
2020 Community Agenda Committee Member, Partnership for the Public Good (2019)
Member, Villa Maria Music Advisory Council (2018)
Panelist, CNY Arts State & Local Partnerships Technical Assistance Grants for NYS (2017)
Judge, Congressman Higgins' Congressional Student Art Competition (2012-2016)
Judge, National (Western New York Division) Parent Teacher Association Reflections Competition (Photography Category) (2015)
Marketing/Concert Crew, Slee Hall at Lippes Concert Hall at the University at Buffalo (2007-2009)
Volunteer Coordinator, Hallwalls Contemporary Arts Center's Artists and Models: Nocturminal fundraiser; and
Music Librarian and Marketing, Amherst Chamber Ensembles.
Additional work in the for-profit sector includes Promotions for Citadel Broadcasting and Righteous Babe Records, and management and marketing for several individual music projects.
Ms. Swan has presented at a variety of community-wide engagements including
University at Buffalo Arts Management Museum Studies Course (October 2021)
University at Buffalo: Arts Management Student Orientation Mentor Panel (August 2021)
Daemen College Forum Series: Shaping Culture as Empowered Creatives (July 2021)
Kenmore Rotary Club (March 2021)
Community Impact Committee, Community Foundation for Greater Buffalo (March 2021)
Jewish Community Center (February 2021)
20th Century Club (February 2021)
Response, Recovery, & Moving Forward for the Arts, hosted by the Community Foundation for Greater Buffalo (October 2020)
Chautauqua Institute's 11th Annual Buffalo Day – Arts & Democracy (July 2020)
Reopening Commercial Districts Creatively, hosted by LiSC WNY (May 2020)
University at Buffalo: Intro to Arts Management Grants & Funding (April 2020)
Canisius College Institutional Advancement: Grants & Funding Lecture (December 2019)
Business of Teaching Artistry: Lincoln Center Ed Fundamentals Lab Panel (November 2019)
Minority Artist Inclusion Panel for Chairwoman April Baskin & Legislator Howard Johnson (October 2019)
Arts Management Workshop Instructor for Shea's Performing Arts Kenny Awards (May 2016-2019)
Villa Maria College: Get That Job Week (March 2019)
Accessing Erie County Funding Workshop, hosted by Legislator Barbara Miller-Williams (February 2018-2019)
A Musical Career in the Arts: Managing Musicians & Other Stories from the Field, Buffalo State College (February 2019)
2019 Arts & Culture Review, Canterbury Woods Gates Circle residents (February 2019)
Coalitions, Cooperatives and Collectives: Building Creative Communities Round Table for Buffalo Arts Studio (June 2018)
University at Buffalo's Arts Management Cultural Policy Course (September 2017)
Dance Days of Buffalo 2017 (August 2017)
Villa Maria College: Digital Media and Communication Program Professionals Luncheon (April 2017)
Shea's Performing Arts Center's Kenny Awards Business Panel (May 2015)
Daemen College's Art and Community Class (2014-2016)
University at Buffalo's Coffee Cup Conversations (February 2015)
2014-15 Nancy Haberman Gacioch Entrepreneurship Lecture Series (Daemen College Entrepreneurship Program, November 2014)
Villa Maria College's Event and Promotion Course (October 2014)
Leadership Buffalo's Arts, Culture, and Tourism Day (June 2014)
University at Buffalo's Management Career Development Class (November 2013)
Public Relations Student Society of America (PRSSA) Evening with the Professionals at Buffalo State College (October 2012).
Ms. Swan was named Buffalo Spree Magazine's 2018 Best of WNY – Best Arts Administrator and has a MA in Arts Management from the University at Buffalo and a BA in Communications/Broadcasting with a minor in music from Buffalo State College.  While at the University at Buffalo she traveled abroad with NUROPE (Nomadic University for Art, Philosophy, and Enterprise in Europe) to Sweden and Finland, completing an intensive scholarly program entitled Beyond Bergman and Nobel: Scandinavian Cultural Policy and Performing Arts.  As a result of that academic excursion, Ms. Swan co-wrote a published article for the UB International on study abroad arts management.
Photo credit: Elaine Stickney